Robeson is the unhealthiest in NC again, But….
The 2017 County Health Rankings released by the University of Wisconsin and the Robert Wood Foundation lists Robeson County as the most unhealthy in the state when compared to North Carolina's 99 other counties. This marks the second consecutive year that Robeson County has earned this distinction.
Moreover, Robeson County's 2017 health rank highlights a disturbing trend of traditionally low scores over the last 6 years, an important point that should not be taken for granted as we also consider the long-term disaster recovery needs in the county as a result of the devastating impact of Hurricane Matthew and the record flooding that followed.  After all, just as Robeson County cannot truly recover from disaster without addressing the diverse public health challenges that have diminished community resilience for years, the overall health of our county will not improve without addressing the diverse long-term disaster recovery challenges that will be experienced over the next 5 to 10 years.
The decisions that we make, as well as the decisions we fail to make, are quite literally a matter of life and death.  This inescapable fact and the lessons we are learning while currently managing a series of complex obstacles simultaneously should drastically transform the way everyone thinks about public health, disaster preparedness, and long-term disaster recovery collectively.  Most importantly this moment in our history should also inspire us to evaluate and modify our strategies to address these interconnected challenges in a myriad of dimensions going forward as a community.  In other words, Robeson County is the most unhealthy county in the state this year, but this data gives us an incredible opportunity to maximize the synergy of ongoing and emerging efforts that are focused on promoting growth and saving lives.  Our community also has the opportunity to develop innovative strategic partnerships that can facilitate the scale of response that is necessary to effectively produce transformation.
The Good News:  Robeson County is a case study that highlights the need for S.M.A.R.T. Investment, Innovation &  Collaboration
Although the numbers are sobering and disappointing, contrary to popular belief there is a lot of good news deeply embedded within Robeson County's health rank this year.  For example, as we look at the long list of growth opportunities that are highlighted in the data ranging from drinking water violations, air pollution, unemployment,  severe housing problems, the rate of adult obesity, physical inactivity, violent crime, income inequality ,and other relevant factors, our stats ironically make an irrefutable case that  – more than anywhere else in the State of North Carolina – Robeson County should be at the top of the list as local, state, and federal stakeholders consider investment priorities, the impact of public policy decisions,  the integration of innovative solutions, and opportunities that nurture the development of collaborative models that can efficiently and effectively shift the paradigm.  In other words, since Robeson County is in essence 'ground zero' or a modern case study that vividly illustrates the plight of vulnerable communities all across the nation, a collective push for comprehensive support, innovation, cooperation and assistance both externally and internally should be our #1 priority.
Adopting a Collaborative Model that Works! 
One of the most helpful tools on the countyhealthrankings.org website is their interactive Action Center.  Most notably it highlights a standard of collaboration that is absolutely necessary to truly transform communities. This approach challenges counties to actually work together collectively, and emphasizes that true collaboration requires individual, systematic, and institutional change throughout the entire ecosystem.   Moreover it helps us to better appreciate that effective collaboration and cooperation is real ― and when it isn't ― the truth is revealed in the health outcomes and health factors in our communities.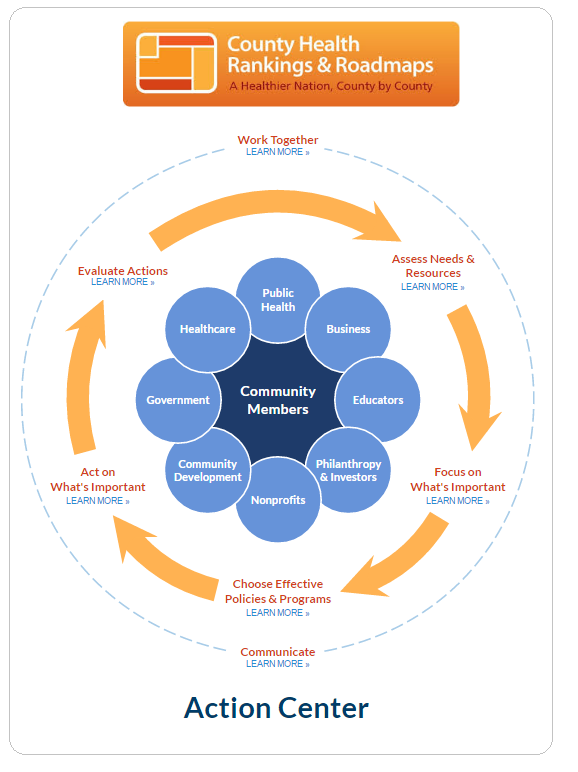 Building a Culture of Health by Thinking Outside of the Box!
Many may often assume that health statistics in general, and the County Health Rankings specifically,  are just another way to share bad or disappointing news.  Some may even think that this data is just for researchers, public health professionals and academics.  But the overarching goal of sharing this information is centered around a genuine effort to inspire counties to adopt an all hands on deck approach that facilitates comprehensive and proactive participatory engagement throughout the entire community that empowers diverse stakeholders from every walk of life to focus on working collaboratively to deploy solutions together. This strategy involves a revolution of ideas and constructive action that tears downs walls, eliminates vacuums, and gives voice by transforming the board room into a fully engaged community where everyone is valued. Supplemental resources like the  Action Center,  Building a Culture of Health, Webinar Series, and much more are available to provide guidance and helpful information throughout the process.   For example, Dr. Risa LaVizzo-Mourey, the President and CEO of the Robert Wood Johnson Foundation,  has shared the seven important lessons that she has learned about improving the health outcomes and factors in communities like ours!  Click here to learn more!
Relevant Videos & Links:
CountyHealthRankings.org |  Upcoming & Recorded Webinars
CDC |  Develop S.M.A.R.T Objectives