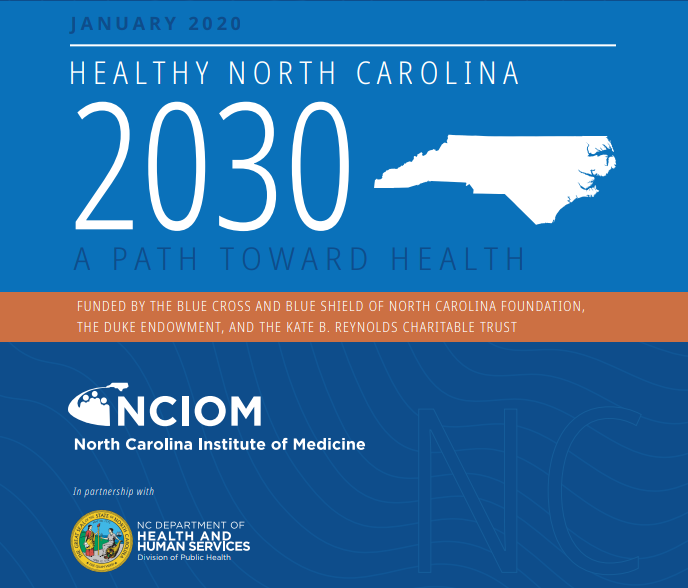 In parallel with the national Healthy People initiative run by the United States Department of Health and Human Services, the NC Department of Health and Human Services has released Healthy North Carolina goals at the beginning of each decade since 1990.  The NCIOM led the HNC process throughout 2019 and has released the final report detailing selected health indicators and targets for 2030.  Jay Leggette an award winning Grassroots Community Health Coordinator and the founder of The Stimulus served as a member of the HNC 2030 Task Force.  [ Click here to learn more about the HNC 2030 Taskforce. ]
The Healthy North Carolina 2030 project brings together experts and leaders from multiple fields to inform the development of a common set of public health indicators and targets for the state over the next decade. These indicators will serve as the population health improvement plan for the North Carolina Division of Public Health. With a focus on health equity and the overall drivers of health outcomes (health behaviors, clinical care, social and economic factors, and the physical environment), these indicators and targets will help drive state and local-level activities, provide a springboard for collaboration and innovation, and develop a new vision for public health in our state to improve the health and well-being of all people of North Carolina.
Community Input Sessions 
As a component of the Healthy North Carolina 2030 project, the North Carolina Institute of Medicine staff hosted 8 regional meetings across North Carolina to solicit community input on potential Healthy North Carolina 2030 priorities.  All community members were invited to participate.  Those who attended the community input session held in Robeson County included a diverse group of community members as well as leaders in the business, health, faith, education, non-profit, and public sectors.   During each 2.5 hour input session community members who attend reviewed potential Healthy North Carolina 2030 priorities and provided feedback on which are the most pressing health priorities of their community.   That input was brought back to HNC 2030 project members, who finalized measures and set the state's Healthy North Carolina 2030 targets.   This process helped to align goals and leverage resources across sectors.